DNA SERIES
This clear-wall partition integrates perfectly with the glazed one making use of the same type of perimeter profile. A frame which is thus almost imperceptible and turns the wall into a sort of graphic and essential frame.
The approximately 2 cm high groove supplements the panel with a slot which is practically perfect in the architectural prospect in which it is inserted. A thickness of only 6 cm for a wall able to unite lightness, resistance, high acoustic and aesthetic performance.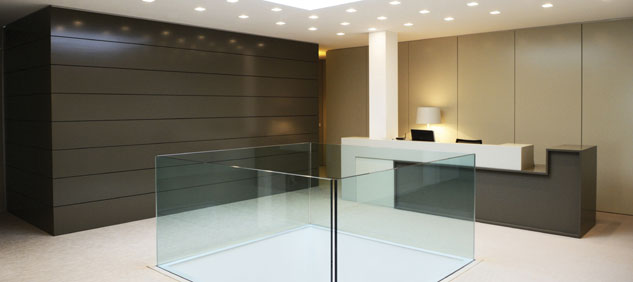 CHARACTERISTICS
The load bearing structure is realized with vertical uprights located at modular, upper and lower binary "C" centre to centre distances and reinforcement intermediate cross bars of galvanized steel. The intermediate cross bars are already arranged for the installation of technological systems.
Plugging is achieved by means of two wood agglomerate panels, 18 mm thick each, coupled with the high density inner acoustic panel and ready for vertical connections and linking with the load bearing perimeter structure.
Regarding acoustic performance, the system is fully in accordance with the standards in force and can adjust to the purchaser's specific requirements in the field of acoustic performance.




ASK FOR A FREE ESTIMATE DOWNLOAD CATALOGUE
DETAILS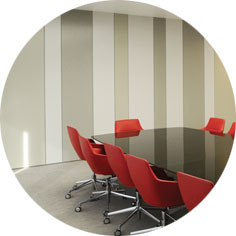 Want to download our catalog?
Enter here your name and your email:

And how can we help YOU?
What project are you working on and what architectural solutions are you looking for? Do you feel like the glass partitions or fitted office walls that have already been offered to you are not very flexible? Or perhaps the glass partitions that you are aware of are not as customizable as you would like?
CONTACT US NOW WITHOUT ANY COMMITMENT TO EXPLORE HOW WE CAN WORK TOGETHER TO CREATE YOUR PROJECT. WE MANUFACTURE FITTED WALLS AND GLASS PARTITIONS, ALUMINUM PARTITIONS, AND WOOD PARTITIONS, AND FITTED OFFICE WALLS WITH 40 YEARS OF EXPERIENCE TO GUARANTEE TECHNICAL SUPPORT RIGHT DOWN TO THE FINEST DETAILS!
This slideshow requires JavaScript.