Designer wood partitions for offices, classic and modern.
This slideshow requires JavaScript.
Design and production of designer wood partitions for offices, traditional and monolithic: we customize YOUR project with meticulous attention to details and finishes, with the economic advantage that only an experienced manufacturer like ZI Creative can guarantee!
A space created using materials in wood is always warm and welcoming; wood partitions by ZI Creative are capable of combining these pleasant sensations with the most modern functionality in offices, retail spaces and residential interiors.
DNAX Wood, our line of wood partitions used for interior partition walls, is in fact an office product that crosses over into the hospitality and retail sectors. Light, shadows, transparencies and fragrances are combined with the warmth of wood.
The accessories used and their details, including handles, curtains, diffusers for natural fragrances connected to door opening, light fixtures and other finishes, allow you to create your "custom" personalized walls using wood partitions that better respond to your specific needs.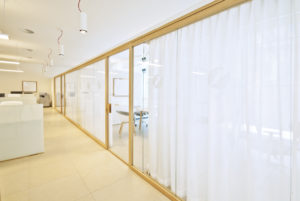 Architects and clients appreciate the extreme flexibility in customization of our wood partitions, as well as the essential nature of the overall architectural project, which stands out for the simplicity of its form thanks to completely concealed technological systems.
The market is becoming ever more demanding, just as the desire to stand out professionally of those who rely on ZI Creative continues to grow.
Partitions with wood partition walls were selected for the renovation project for the Unicredit banking group branch offices, rendering the spaces warmer, more welcoming and hospitable.
Rapid execution of works and total respect of agreed delivery schedules, as well as attention and discretion during the installation phases, were all guaranteed in this project.
Our installers are highly qualified, trained and used to working in full respect of the spaces and working personnel; in fact, in the Unicredit bank branches the wood partitions were installed exactly according to the project over the course of only a few weeks, ensuring as much confidentiality as possible and without any interruptions in the workings of the bank.
Want to download our catalog?
Enter here your name and your email:

_
CONTACT US:
_
And how can we help YOU?
What project are you working on and what architectural solutions are you looking for? Do you think that the wood partitions that have already been proposed to you are not very flexible? Or perhaps the office partitions that you are aware of are not as customizable as you would like?
CONTACT US NOW WITHOUT ANY COMMITMENT TO EXPLORE HOW WE CAN WORK TOGETHER TO CREATE YOUR PROJECT. WE MANUFACTURE WOOD PARTITIONS AND DEMOUNTABLE PARTITIONS WITH 40 YEARS OF EXPERIENCE TO GUARANTEE TECHNICAL SUPPORT RIGHT DOWN TO THE FINEST DETAILS!
THEY HAVE ALREADY CHOSEN ZI CREATIVE GLASS PARTITIONS AND FITTED PARTITIONS: