DNAX SERIES
DNAX starts anew and evolves at each project, custom spun in synergy with the architectural context, a whole generated by the same genetic code. The world seems to stand on the infinitely minute, mobile and light. A poem of the invisible, of the impalpable, of unlimited and unpredictable possibilities emerges. Space unwinds in soft infinite rolls, jealous guardians of silence. Lightness and reserve: beauty does not yield to acoustic performance.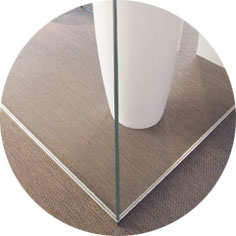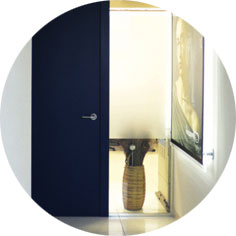 QUALITY DETAILS
In all the solutions the main profile keeps its size and technical characteristics unchanged such as its being telescopic with the perimeter profile for adjustments at the worksite and the option of being equipped with curtains, lighting and whatever the designer intends to team up with the wall.
The profiles, which characterize the system and are its perimeter near the partitioning elements, such as the floor, ceiling and existing masonry, have 2,5 cm wide and 3 cm high sections which already include adjusting systems.
The adjacent panes are joined by means of a special transparent tape which allows later separation without the elements being damaged and thus maintaining utmost clearness and aesthetic neatness. Joining can also be carried out with a special transparent polycarbonate profile.
A) Detail of a polished edge glass door with a balanced acoustic damper and a hinge a +80° door opening with a variable structure.
B) vertical technical module for managing systems; front and side signs with spot lighting.
C) Detail of low-voltage button positioned on the upright of the door for controlling lights, dimmers are also available.
D) A solution dedicated for any type of magnetic lock door handle and possible access check.



ASK FOR A FREE ESTIMATE DOWNLOAD CATALOGUE
CHARACTERISTICS
DnaX features utmost clearcuttedness in architectural language and versatility in use.
The single glass partition wall is the real soul of this collection. It can totally unveil original prospects with its extreme lightness so as to cover, protect, draw designed diaphragms as precious fabrics.
Its extreme technical flexibility, a fundamental characteristic of the product, is intentionally covered by the extreme lightness and transparency of the system. The latter allows total nonexistence of vertical uprights, as a matter of fact, except for the swing door in which it only accounts for 3 cm.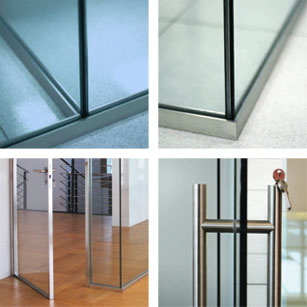 Want to download our catalog?
Enter here your name and your email:

And how can we help YOU?
What project are you working on and what architectural solutions are you looking for? Do you feel like the glass partitions or fitted office walls that have already been offered to you are not very flexible? Or perhaps the glass partitions that you are aware of are not as customizable as you would like?
CONTACT US NOW WITHOUT ANY COMMITMENT TO EXPLORE HOW WE CAN WORK TOGETHER TO CREATE YOUR PROJECT. WE MANUFACTURE FITTED WALLS AND GLASS PARTITIONS, ALUMINUM PARTITIONS, AND WOOD PARTITIONS, AND FITTED OFFICE WALLS WITH 40 YEARS OF EXPERIENCE TO GUARANTEE TECHNICAL SUPPORT RIGHT DOWN TO THE FINEST DETAILS!
This slideshow requires JavaScript.