Partition walls, fitted wall partitions for offices, glass and wood partitions: the most frequently asked questions.
Here you can read some of the most frequently asked questions from new clients about designer and modern glass partitions, wood partitions, demountable partitions and fitted wall partitions for offices. Contact us for any information you may need!
1) What are the features of the glass partitions?
DNAX glass partitions are distinguished for their essential architectural lines and versatility of use.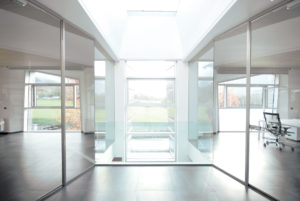 2) What is the sound proofing performance like when using glass partitions?
The double-pane glass partitions develop the sound-proofing and noise insulation qualities of the partition, in order to guarantee superior comfort and functionality in your workplace, all while maintaining maximum transparency.
3) What are the project-related limitations of your products? Do you provide custom partitions based on my specific requirements?
The DNAX series was designed to have no project-related limitations, with extreme technical flexibility, a fundamental feature of the glass partition, which is concealed by the elevated transparency and light nature of the system, which allows for the total absence of vertical support columns, with the exception of the swinging door, which requires a support measuring only 3 cm.
4) What finishes are possible with the glass partitions and wood partitions?
A space created using materials in wood and glass is always warm and welcoming; wood partitions by ZI Creative are capable of combining these pleasant sensations with the most modern functionality in offices, retail spaces and residential interiors.
Finishes, including painting, anodizing processes, and wood varnishes, are all part of the DNAX customization options.
In short, the desired architectural project can be created with basically any finish.
5) Which market segment do your divider partitions and fitted partitions fall into?
Despite the elevated ability to technically customize your partition wall and fitted wall partition, permitting the application of any finish according to the architectural project, the design team at ZI Creative always take the economic aspect into account, optimizing resources and materials.
Want to download our catalog?
Enter here your name and your email:

_
CONTACT US:
_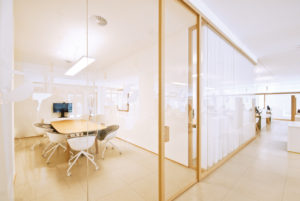 6) Are ZI Creative glass partitions easy to assemble?
The glass partitions created by ZI Creative are a latest generation product, and therefore take assembly times into account, where we manage to control costs by optimizing installation times.
The system's engineering design guarantees immediate positioning of perimeter profiles and subsequent insertion of the glass panels with snap-in profiles and suitable seal gaskets.
7) What types of doors do you install with your products?
The glass partitions by ZI Creative are compatible with infinite types of doors; from glass doors to solid door, swinging and sliding, in standard or customs versions: from typical office doors with smooth glass edges or framed, to home styles, and monolithic partitions in wood or vertical swinging doors, also in large sizes.
8) What types of glass are used in your partitions?
The ZI Creative partition system is engineered to house its own perimeter profiles solutions using glass partitions that range from tempered glass to layered glass, with forms from 10 mm up to 17 mm thickness, both in the single pane partition and the double pane partition.
This is to guarantee maximum flexibility from a dimensional standpoint as well as a sound proofing standpoint.
Questo per garantire la massima flessibilità sia dal punto di vista dimensionale che da quello prestazionale parlando in termini di isolamento acustico.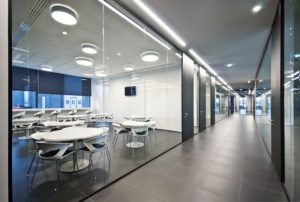 9) What are the delivery and installation times for the glass partitions?
Maximum optimization during the production phases of the glass partitions means we can guarantee reduced delivery times to our clients in respect to market standards.
The systems are engineered to guarantee surprising installation times.
10) What kind of wall equipping is possible on your interior partitions?
The interior glass partitions by ZI Creative feature extensive possibilities for equipping the system, including total integration of both solid and glass partition systems with containment systems.
The fitted partitions are designed to be customizable down to the finest details; they replace divider walls and create an attractive appearance and functionality to the maximum.
And how can we help YOU?
What project are you working on and what architectural solutions are you looking for? Do you think that the office divider partitions that have already been proposed to you are not very flexible? Or perhaps the divider partitions that you are aware of are not as customizable as you would like?
CONTACT US NOW WITHOUT ANY COMMITMENT TO EXPLORE HOW WE CAN WORK TOGETHER TO CREATE YOUR PROJECT. WE MANUFACTURE GLASS PARTITIONS, ALUMINUM PARTITIONS AND WOOD PARTITIONS, AND FITTED WALL PARTITIONS FOR OFFICES, WITH 40 YEARS OF EXPERIENCE TO GUARANTEE TECHNICAL SUPPORT RIGHT DOWN TO THE FINEST DETAILS!
THEY HAVE ALREADY CHOSEN ZI CREATIVE FITTED WALL PARTITIONS: